The Assaoud canyon is a small canyon which goes along Jabel Um Ishreen, from the east side, starting from Wadi Um Ishreen. First information about routes in the area was seen at Liên & Gilles Rappeneau page, the prominent is Bedan Majnoon.
We (Alex, Kirill, Sergey, Igor and Dmitry, climbers from Israel) have climbed some additional routes there and believe this area has a lot to offer. Spend some days camping in the desert and find some good rock, variety of climbing styles and very nice scenery!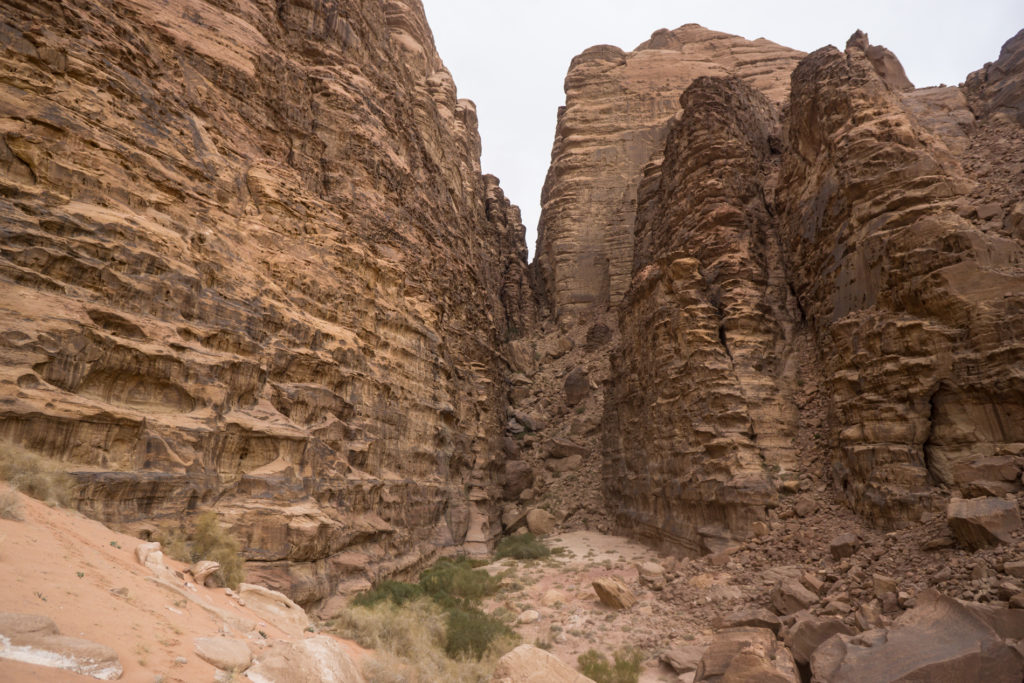 Few notes:
To get to the area, the best way is to take a jeep from Rum village. We recommend contacting Ali Hamad (+962-795675327) as he knows the place well
There's no cellular connection in the area, and the nearest place to get one is two hours by foot – head North in Wadi Um Isrheen (also see next item). It means that in case of an accident you are on your own – think of the emergency plan in advance and better be three people at least.
To get back to the village by foot: the best way is to take Zernouk El Dabr siq (includes rappelling), but you need to know the way. In the middle of the siq, there's already a cellular connection, so it is the nearest point we know if you need to call for a help.
Don't rely on the existing abseiling belays webbings, always take some for backup!
Please don't leave any waste and keep the area clean! Don't add bolts on existing routes without talking to ones who open it!
Contact Alex Lurye for any issues or questions: tatapcku@gmail.com
List of routes:
1. Hello Kitty. 4+/5
2. Chicken chimney. 4/5/4/4
3. Backdoor. 5/5+/5
4. Ali Express. 5+/6a+/4-/3+/5-/3
5. Passover is over. 5+/5+/4+/6a/5+/5/4+/4
6. The dark side of Um Ishreen. 5+/5+/6a-/3+/6b exp/3/5-
7. Ganesha. 5+/6c+/5/6c/5+/3
8. Rund um die Welt. 500m V+ max
9. Black Eagle (Sakhr Al Aswad). Partially bolted route on black slab. TD-, 240m
10. Bedan Majnoon.
11. Unknown bolted route. 5+/5+
Click on map area to get to the corresponding sub area: